---
Spring/Summer Season
We welcome parties from 2 to 700.Awesome Mini golf is open to individuals and groups thru October!! See mini golf page for details. A 400 feet ride down World Class Waterslides bring big smiles to picnics and field trips. Here at beautiful Eko Backen we have over 6,000 square feet of shelters, so the fun can happen, come rain or shine!
A Great Place for all your get togethers... Whether it's a company picnic, team building event, field trip, wedding, office party, class reunion, pack meeting,benefit, family picnic, birthday party or any special event, come to Eko Backen.We are Family friendly!!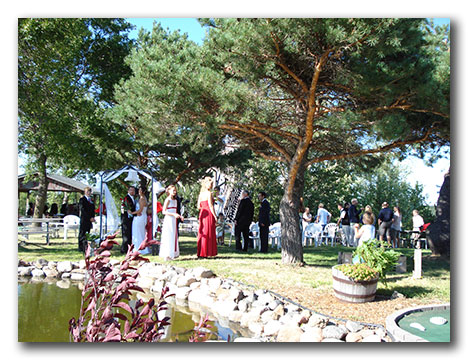 Play hard...
We're open for your special event year round.Check out the a challenging mini golf.Yes!! it's a hole in one!! Go ahead- scream in delight on the waterslides. Lawn games,Bean bag badmitton and ping pong will keep you moving and work up an appetite!

Or rest easy...
You don't need to go all out! You can just simply relax and enjoy the beautiful view over the St. Croix Valley. Ease back in the shade of the one of our private picnic shelters or treat yourself to our convenient and spacious chalet.

But bring your appetite!
Served buffet style, our mouthwatering menu will have your coming back for more. . Here at beautiful Eko Backen we have over 6,000 square feet of shelters, so the picnic fun can happen, come rain or shine!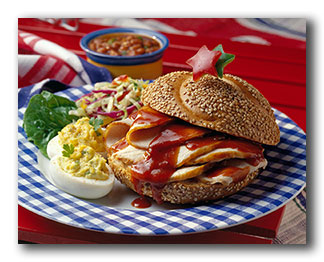 Winter Season
We make SNOW! Lots of snow! Individuals and groups are invited to come on over and enjoy the fun. Our roomy chalet is excellent for family, company,holiday and birthday parties. Well lit and groomed expert, intermediate, and bunny hills are perfect for all ages and abilities. Two rope tows make it almost as fast coming up as going down!. The rustic 4000 sq ft chalet offers a full kitchen, concessions, videos and a warm fire. Tickets are valid for 3 hrs.! December into March we open weekends, holidays and xmas break. Weekday and extended hrs. by reservation. Just give us a call!!
Affordable Field Trips and Group Outings
Register to win a FREE Field Trip
Please Note:
Winter tubing is open to the public. Summer is by reservation only!
So how do you spell Eko Backen?! Not eco backen or ecko backen or ecobacken or ecko bakken or echo backen or echo bakken or ekko bakken and really not eko back in or ecko back in. But any way you spell it, it's a good place for family recreation and group gatherings. Stop by soon!